BEGINNING OF A NEW LIFE TOGETHER
Experienced pregnancy photographer in Stockholm who focus on your experience together
First and foremost; big warm congratulations, what exciting time you have in front of you! Thank you for your interest in booking a maternity photo session, it is a trust I take very seriously and with great warmth, I will do my utmost to reflect your special time. Usually when I photograph pregnant couples I see it as a normal couple photography, but perhaps a little more extra focus on the belly. It also usually becomes more individual portraits only on the mom-to-be.
My goal is for you to feel that it will be a couple of hours where you are in focus. An experience where you get to feel at ease and have your pregnancy captured. I will make sure you feel relaxed in front of the camera and will give you instructions if you feel unsure about posing. Most people choose 2 different outfits and 1-3 different environments to be photographed in to get variety in the pictures.
Already when making the request via the booking form, I ask you to tell me what type of photographs you dream of. Who are you, what kind of products should the images result in, what is important to you? By telling as much as possible, I can prepare the photo shoot in the best way, everything from the choice of location to lighting.
Every year I photograph a limited number of assignments, I have chosen to keep the number of assignments down in order to give my couples the best possible service before, during and after their photo shoot.
FLEXIBILITY WITH EASY ACCESS
Quality always comes first, I take great pride to only deliver good images, both from a technical and aesthetic perspective. You then buy only the photos that you love and you're not tied to packages. In your web gallery, you can make a selection of the photographs you wish to order as digital image files and/or products.
MATERNITY PHOTOS STOCKHOLM
Date and time for your maternity session
If you're planning to have the shoot in a big city, such as Paris, New York, Positano, Stockholm, Marrakech or Florence, I recommend you to mix nice alleys and parks with classic, iconic view that are typical for the city. If you're planning to have the engagement session where you live, I recommend you to pick a location that means a lot to you. Maybe a park where you like to have picnics, outside that ice cream place where you had your first date or strolling down a street where you first moved in together.
If you want to, I'll be happy to suggest a venue for you if you "just want a good looking location with great light", that is very common as well. Your photos - your choice.
When is the best time
for maternity photos?
I usually recommend taking your maternity photographs between weeks 25-35, but it is very individual how you feel and feel, so we book from depending when you feel comfortable. When I have received your booking request for your maternity session, I will provide feedback with confirmation of dates and send you all the information you need for your photography.
If you book a studio session, the time does not matter, but if you want to be photographed outdoors, I recommend a time a couple of hours before sunset to get soft nice light. If you have children that are joining, we adapt the time to them and choose a time when they are alert and happy.
"I never look good in photos. Never."
Tips for your pregnancy photography Stockholm
By focusing on encouraging your partner, you will shift the focus from being nervous about how you look in the picture to creating a cozy experience together with your favorite person. Imagine wearing good looking clothes, in a beautiful place and getting compliments and hugs for an hour or two. And you get it all on photos, so that you can relive what you felt over and over again over the years. That, my friend, will be your maternity session experience with me :)
If you aren't super comfy in front of the camera, I'll guide you through the entire session telling you how to walk, hold hands, look at each other, etc. When you get guidance on how to act, you relax and start focusing on each other and how you move, instead of how you look. By following my instructions combined with focusing on your partner, you will feel relaxed. I always tell my couples that their focus during the shoot is to make sure their partner gets as much love, compliments and positive feedback as possible.
I have been working as a portrait photographer since 2008 and consider it my job to make sure you are relaxed during your photo shoot. I am convinced that you will love your photos and my goal is that you will leave the uncomfortable feeling behind you as soon as we start shooting. The secret? All my couples tell me they want candid photos without posing. The thing is though, very few of us are comfortable in front of a camera so I pose my couples. I will never ask you to "do your thing" and then wait for you to come up with something (like, what is that?).
If I had a dime for every time I've heard the phrase 'I never look good at photos' :) Trust me, I know how it can feel in front of a camera, with a person you don't know. Then add wanting to look good and ... hello performance anxiety! I know what it feels like to be uncomfortable and if there's one thing I value, it's making sure my couples feel comfortable in front of my camera. It is incredibly common to feel nervous before your photo shoot.
Clothing suggestions for your maternity photo session
∙ If you want bright photos, we'll be looking for light background and venues. I recommend bright colors for your clothes: white, light beige, light gray. All muted, light pastel colors do all look very stylish on photographs and usually matches well.
∙ A common mistake is that couples dress individually. Try out the clothes in front of a mirror and see how you think they combine together. Click here to find out what I mean :)
∙ Don't choose clothes the same day as the photo shoot (and don't bring to many outfits, you'll just get decision anxiety) and remember that less is more.
Choose clothes for your maternity session with care. The clothes, with its colors, style and material makes a huge impact for the outcome of the photographs. In this guide I go through the most common questions I get about clothing choices and I hope you will feel inspired for picking outfit for your upcoming photo session.
∙ A timeless, simple cut, white shirt will look as good in 25 year as it does today. If you choose a timeless outfit, the most important in the photos (that would be you!) will stand out even in the future. The outcome is that you'll be able to enjoy your portraits and not be embarrassed about your outfit.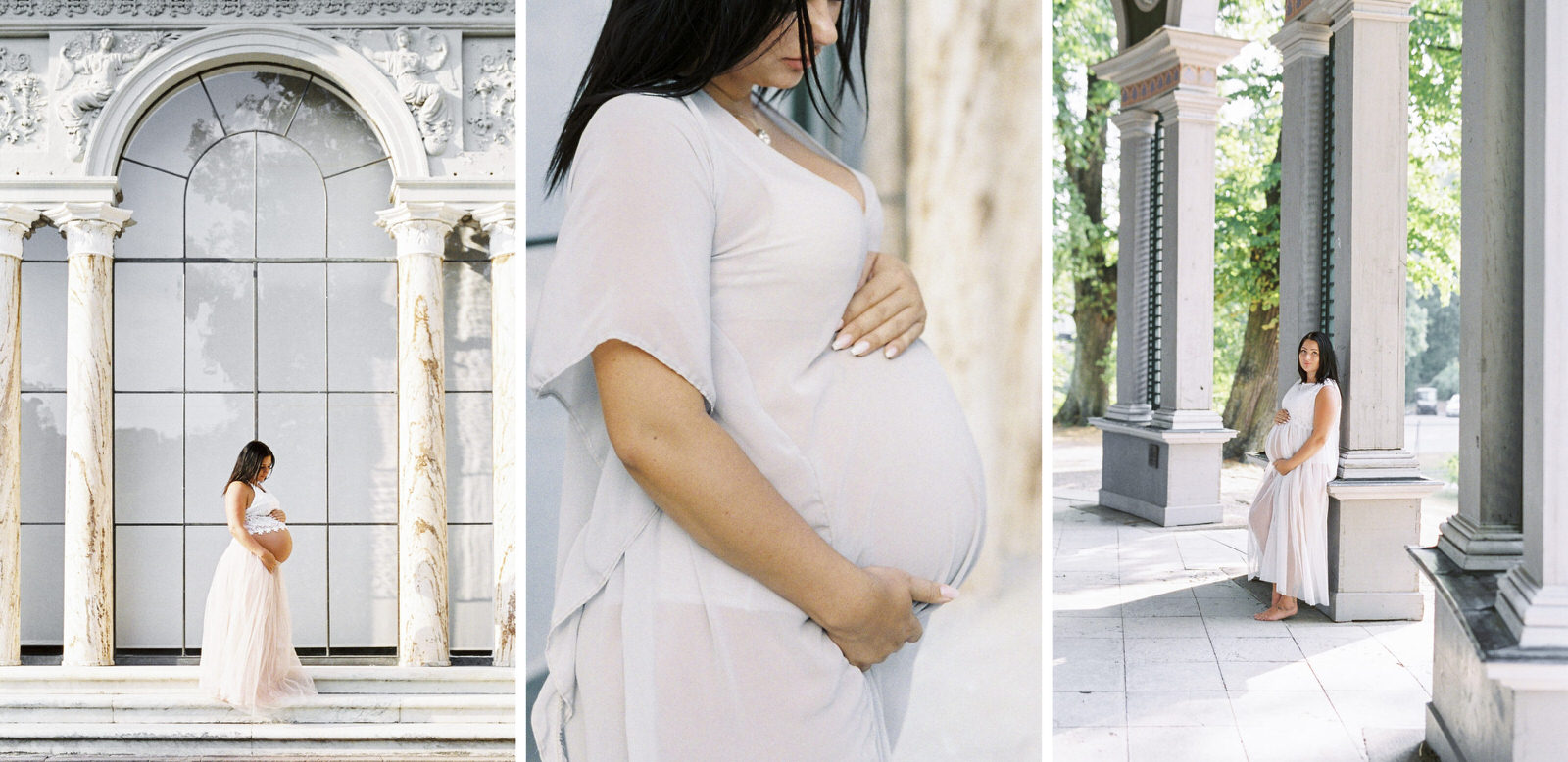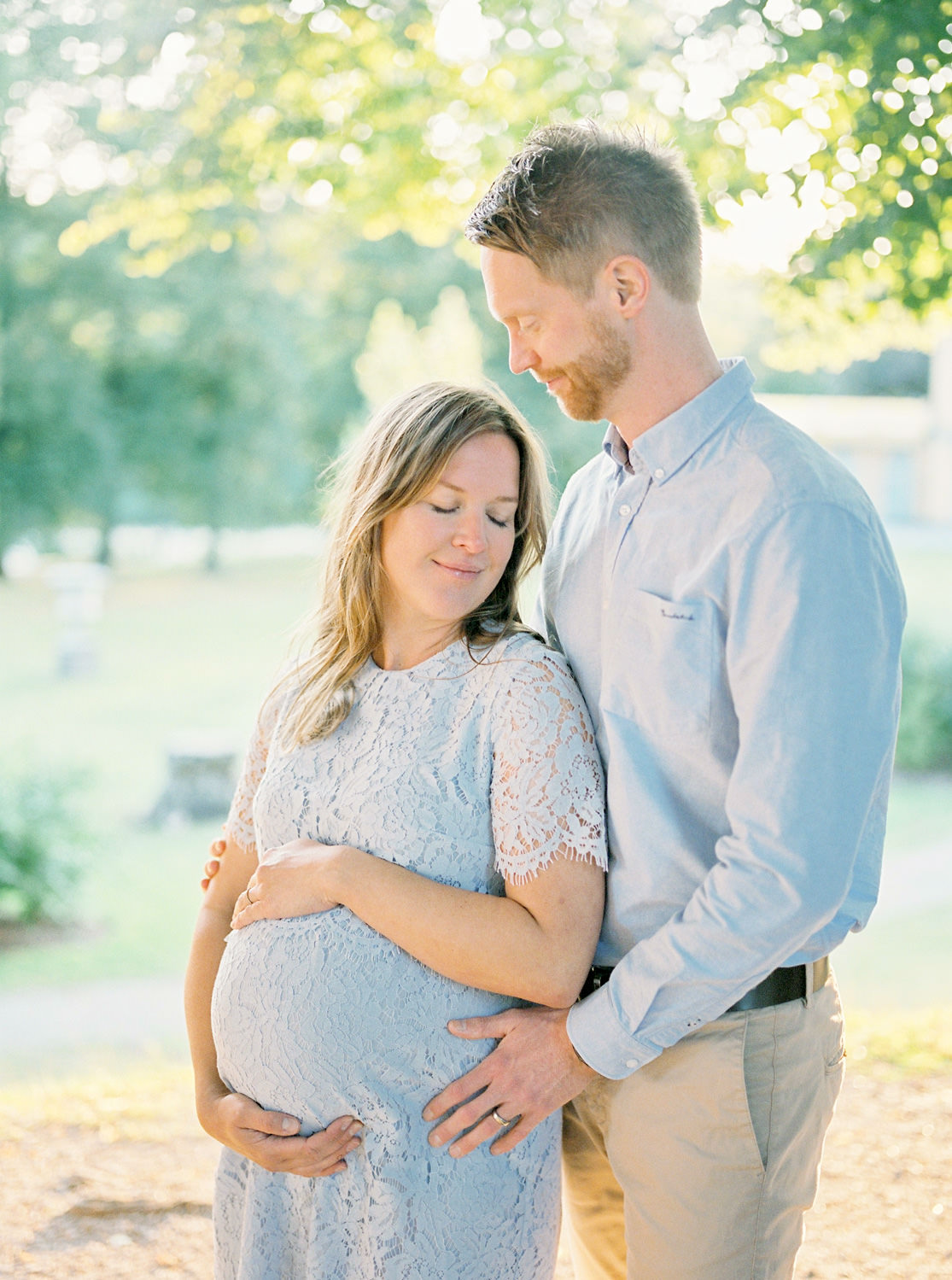 Plan so that you have enough time to decide on an outfit, style your hair and not have to worry about traffic and so on. Make sure you don't come to the photoshoot stressed, it's not the best start to have a cozy time together:) Why not schedule a lovely breakfast and lunch in a place you like, it adds a extra luxury feeling. Make sure you have the whole day together for quality time and compliments, it will be amazing and something you will remember later when you look at the pictures together.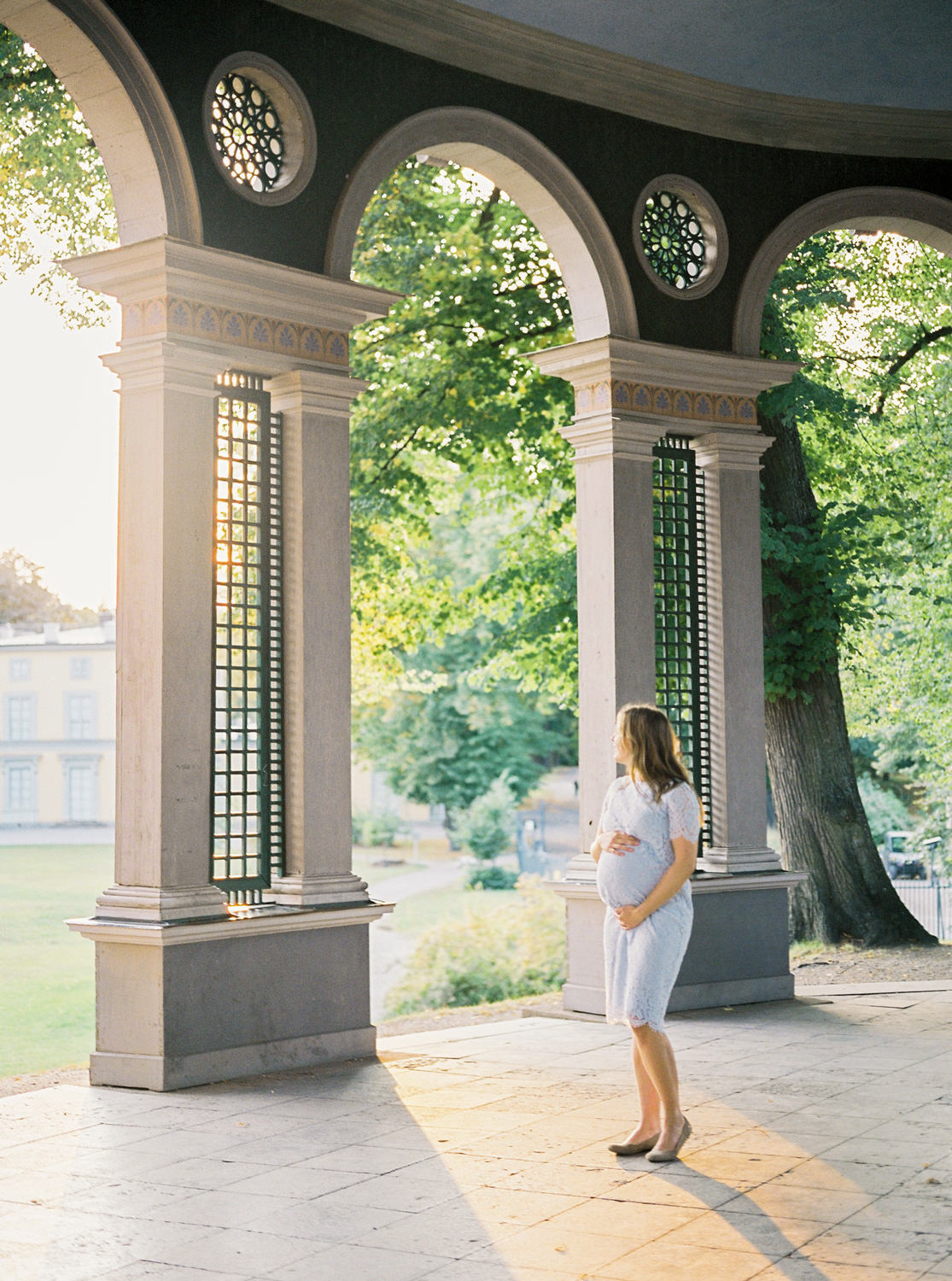 Plan to shoot during sunrise or sunset if you want soft, beautiful light. Being an early riser gives your photographs without too many people in the background, something that is difficult to avoid at sunset if it is a big city that your engagement session is taking place. Shooting indoors? Make sure the venue has high ceilings, light walls and plenty of light. This way you get bright pastel photographs, which you can see in my portfolio.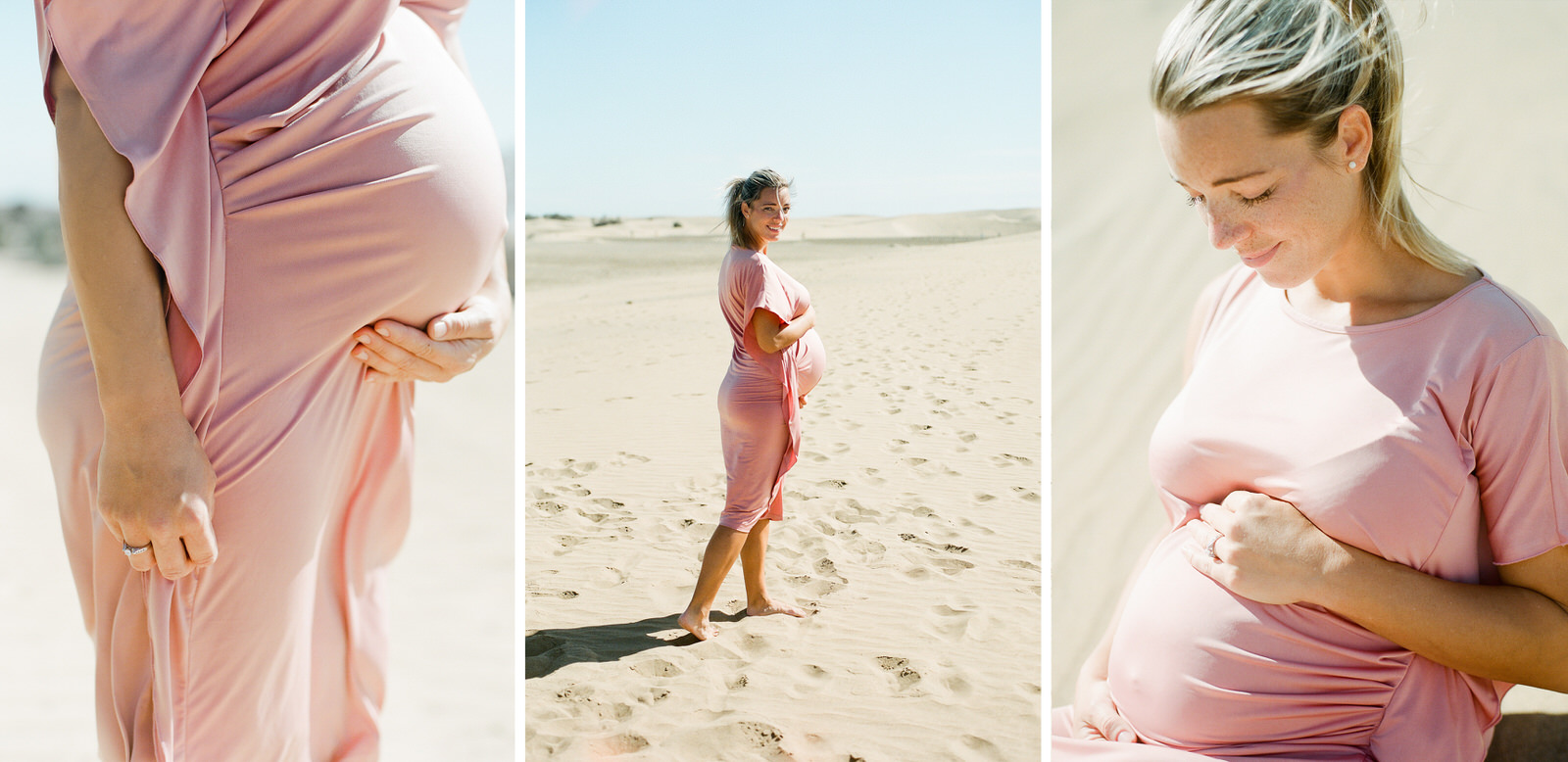 Photographs for generations
Less is more. Keep it simple, classic will always be classic when it comes to outfit, location and props.
Inquiry
I'm looking forward to hear from you! Having a question, ready to book or simply want to say hello? Please fill out the form and I'll get back to you as soon as possible with more information and a full price list. I usually respond within a day. If you haven't received a reply from me – please check your spam folder.
Phone: +46 739-92 10 02
E-mail: [email protected]
Studio: Midgårdsvägen 14, Täby (Stockholm, Sweden)