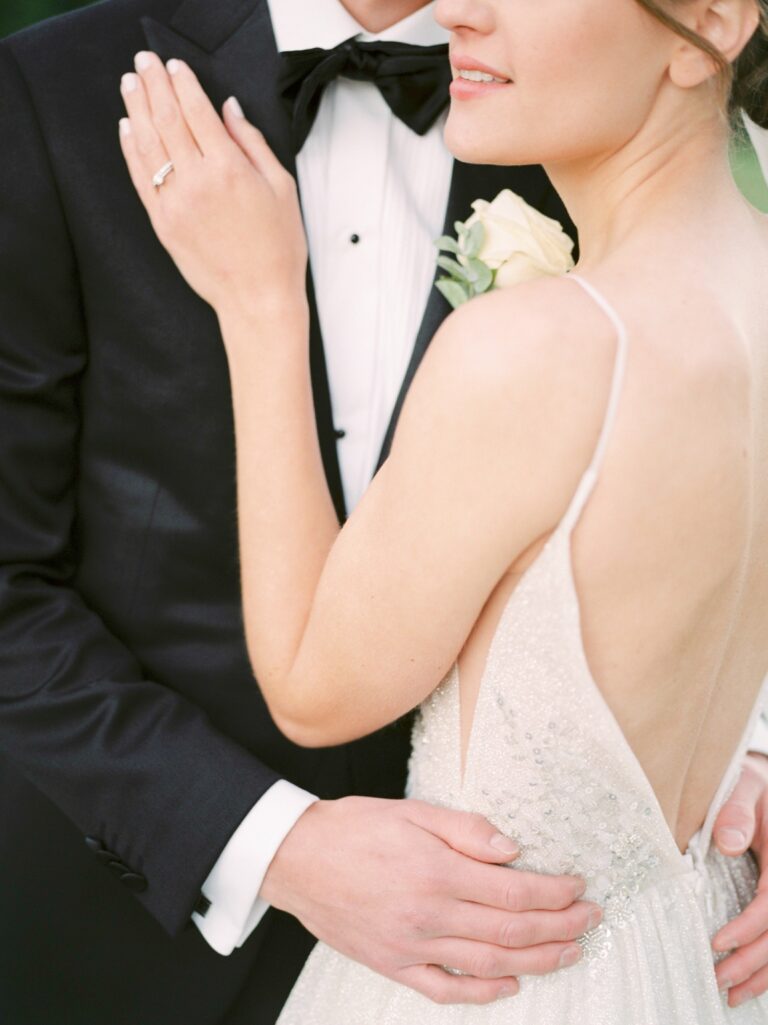 I combine analog film and digital photography to give you the best of both worlds. I shoot a lot digitally (love the speed, security and backup) but I also shoot on film, with physical rolls of analog cameras. The feeling of slowing down, feeling more and being limited creates something in me. Shooting with analog film makes me a better photographer. I have chosen to shoot many of my sessions with film, because I want to create classic and timeless photographs that are just as beautiful now as they will be 40 years from now. Photographs that are clean in style, not influenced by the current image editing trend that happens to be in style at the moment, but photographs that have character with their grain, a softness in their colors and that show all the love you have between you. Photographs that will be as wonderful now as they will be in the future - photographs that stand through generations.
Imagine the future, you are now 85 years old and browsing your wedding album with one of your grandchildren. Beyond all the beautiful portraits, the fine table setting and that venue that you had to book two years in advance to get your date, there you are, the core essence of you. I want to reflect that, with all that wonderful superficiality that enhances all that is beautiful. Wedding photography for me is to preserve all the emotions during your special day.
An investment that
increases in value over time
I've worked as a wedding photographer since 2008 and this means that you get a photographer who plans, anticipates situations and copes with the various technical challenges that a wedding day entails. All weddings and couples are unique, but I am used to read the situation and predicting events before they occur. I'll be happy to help you in the planning phase if you are thinking about what will be best from a photographic perspective. It can be anything from the location of the wedding venue depending on how the light will fall to what you can think about while you get ready in the morning to how to get nice portraits of all the guests.
An experienced wedding photographer means the ability to anticipate events
All my couples get my tips e-mail, where I have collected my best tips and I am happy to help you with your planning. Haven't picked your team yet? I'll provide you with a list with vendors that I love to work with, to make sure you'll get beautiful photographs from all parts.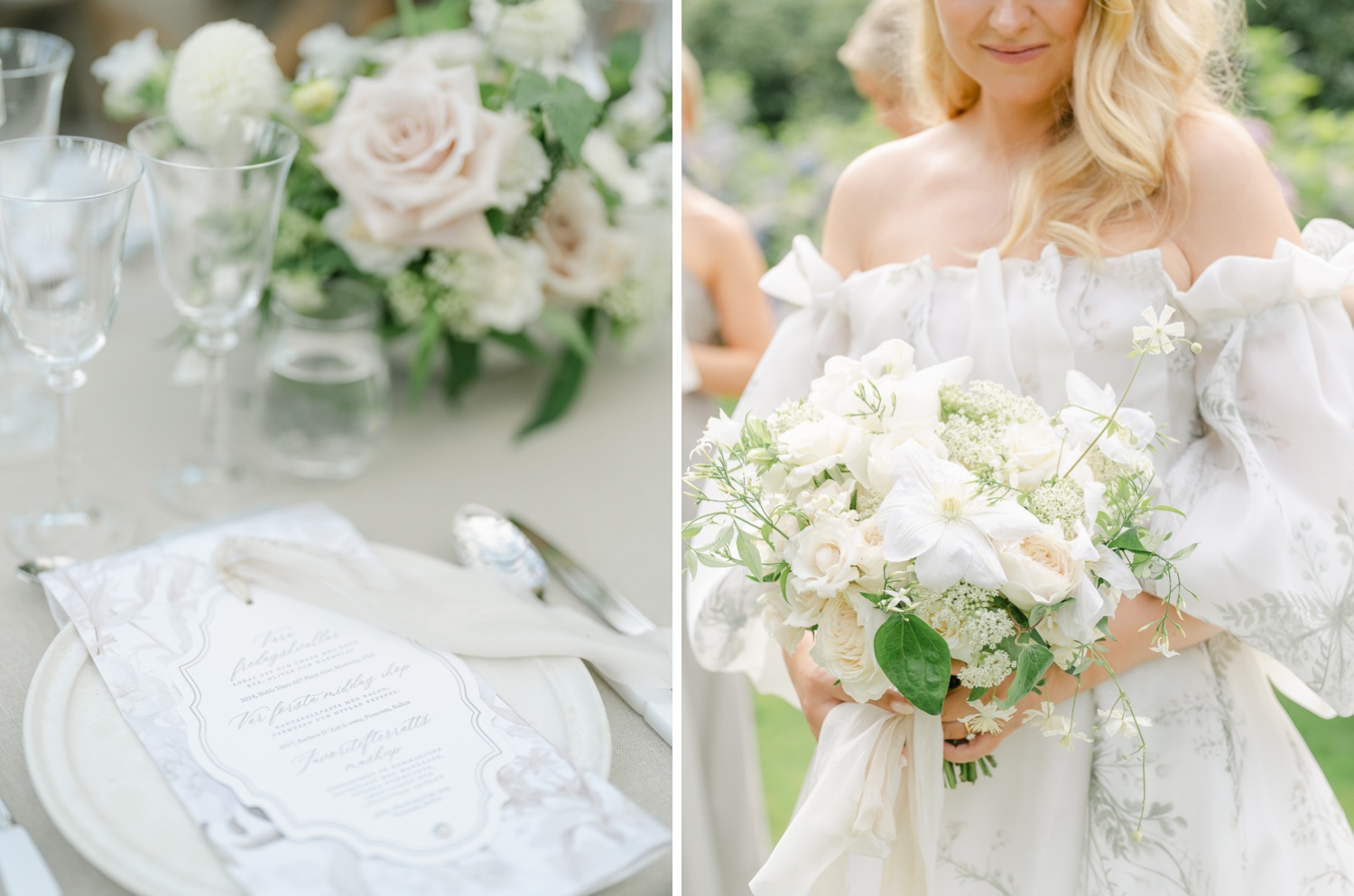 What sets me apart from many other wedding photographers today is my long, documented experience and my willingness to go the extra mile. I have worked as a wedding photographer since 2008 and strive to constantly develop and educate myself within my profession. Experience beautiful, timeless photographs that stand through generations. My goal with my work is to mix photojournalism with an idealizing visual imagery. I photograph a very limited number of assignments each year and work hard to meet the high expectations of my clients.
∙ Videographer
∙ Second shooter
∙ Drone footage
∙ Engagement session
∙ Rehearsal dinner
∙ Day after brunch
∙ 1 photographer
∙ Photography coverage, from 6 hours
∙ Preparation, planning, free support before, during and after the wedding
∙ Consultation meeting where we go through your wishes
∙ Film, development, scanning and processing
∙ Carefully culled and edited digital image files
∙ Linen box including prints
∙ Slideshow online with selected favorite photographs to show to loved ones
∙ Personal online gallery with associated webshop
∙ Print voucher to use in the webshop for products of your choice
∙ 1 year online backup
FILL IN THE FORM BELOW TO
Experienced wedding photographer
I am honored that you are considering hiring me as your wedding photographer to preserve your memories. It may sound like a cliché, but the photos will increase in value over time and I want my brides and grooms to have their entire wedding story documented. I believe that a few photos from selected parts of the day can never do justice to such an important and unique occasion as a wedding. Therefore I offer full-day photography. To tell your story, your wedding, in the best way.
What do you shoot - digital or film?
I'm a hybrid shooter, which means I shoot both. I love film for its timeless beautiful colors and feeling, and I love digital for its speed, security and the possible to push the ISO in dark churches. Everything that I shoot on film, I also shoot digitally to ensure no parts are lost. The analog negatives are scanned and then I match the digital files based on the analog scans. The best of both worlds!
How will our pictures be delivered?
After the wedding, you will have access to a web gallery, from which you can download your photos. Quality always comes first, I take great pride to only deliver 'good' photographs, both from a technical and aesthetic perspective. Culling is an important service I offer my clients so that you don't see duplicates, blurry images, images where people make funny faces or close their eyes. Usually around 300 images are delivered in my 6 hour package and more in the larger packages, all carefully edited and delivered in both low and high resolution formats (for web and development).
DO YOU USE A SECOND SHOOTER?
Most of the time I work as a solo photographer, after my 15 years in the industry I'm very comfortable doing that. An assistant is included to help with the film photo rolls and assist in other ways during the day. If you have a large wedding with many guests, want drone photos or several angles, I recommend that you choose the second photographer service for the package.
How much time should we set aside for the portraits?
I recommend that you set aside one to two hours, to allow time for scenery changes, unfortunate weather and to not feel pressed for time (makes for better photos!). Breaking up the portrait session into 2 smaller session is a great idea if you want to get those golden hour photographs.
I have both equipment and liability insurance. I have back up equipment and systems in place to ensure that no malfunction, accident or human error will result in the loss of your pictures. I have back up on all equipment as well as double memory card slots which ensure that backup takes place continuously throughout the day, which means that the images are not lost if any card should fail before delivery. Extra batteries and memory cards are always included to guarantee extra security. I always save all material on double hard drives and cloud service until delivery has taken place.
I only photograph a limited number of assignments each year and work hard to meet the high expectations of my clients. Here I have collected the most common questions and concerns. For further questions, please send an email.
I have a well thought out backup plan. If I should be unable to fulfill my duties at your wedding, I will, if possible depending on the circumstances, arrange for an equally experienced photographer to take my place (through my vast contact net). A new photographer will be selected based on agreement with the contracting party and delivery will, in such circumstances, take place under the terms of the present agreement.